2022 PYO SEASON
Now in its forty-first year, we are delighted to once again open the gates of Garson Farm to ONLINE PRE-BOOKED FARM PASSES.
Our dedicated team of farmers work hard year-round to ensure the 155 acres of fields are ready for picking from early June through to late October. Pick from delicious fruits, fresh vegetables and even beautiful flowers. Check to see 'What's Picking Today' below.

Location
Garsons Pick Your Own (PYO) Farm is located at:
GARSONS
WINTERDOWN ROAD
WEST END, ESHER
SURREY KT10 8LS
The PYO entrance is located at the top left of Garsons main car park. Follow the directional arrow signs around the car park and drive through the farm gate.
We encourage all visitors to drive through the farm, stopping and parking up at each field as you go around.
PYO FARM PASS
Each individual will need to have a Farm Pass, including children and infants.
You will need to show upon arrival at the farm entrance gate and kiosk your Farm Pass booking with the order reference barcode number. After your booking is scanned at the entrance you will be presented with a credit slip. Please keep the credit slip safe as your will need to show it at the exit till kiosk, in order to receive your Farm Pass booking value deducted from the crops you pick, providing the picked crop produce is equal or of a higher value than the Farm Pass booking price.
Farm Passes are non-refundable; including cancellations, weather changes, crop availability and or missed time slots. Please factor this in prior to booking.
Adult Farm Pass £4.00 (Aged 15 + years)
Child Farm Pass £1.00 (Aged 2-14 years)
Infant Farm Pass FREE (Aged 0 - 24 months)
Adults are classed as 15 years and over. Children are classed as 2 to 14 years. Infants are classed as 0-24 months and must be included in the booking.
Bookings are currently limited to 6 Passes, which includes children and infants. Bookings containing more than 6 Passes will be shown as invalid and the booking site will not let you proceed with a date. Visitors who arrive with more individuals than Passes will not be permitted entry.
GROUP BOOKINGS: Large group bookings are subject to availability and are only available during certain periods of the season. Group bookings are strictly by prior agreement and arrangement by Garsons. Group bookings are designed for educational purposes such as schools, nurseries, playschemes, clubs, and other educational organisations.
CARERS: If you are a carer and require a complimentary Farm Pass please email pyo@garsons.co.uk with details of your request.

ENTRY TIME SLOTS
Each day is split into entry slots every half hour. You will need to choose a slot arrival time for the day you want to visit, you may arrive up to one hour from the time booked. For example, a Farm Pass booked for 11 am, will be accepted for entry anytime from 11 am until 11:59 am. While there is no time limit for your time spent picking on the farm, we ask that you be mindful of other customers arriving throughout the day.
MONDAY - SATURDAY: 9:00am, 9:30am, 10:00am, 10:30am, 11:00am, 11:30am, 12:00pm, 12:30pm, 1:00pm, 1:30pm, 2:00pm, 2:30pm, 3:00pm, 3:30pm, 4:00pm, 4:30pm*, 5:00pm*
SUNDAY: 10:00am, 10:30am, 11:00am, 11:30am, 12:00pm, 12:30pm, 1:00pm, 1:30pm, 2:00pm, 2:30pm, 3:00pm, 3:30pm*, 4:00pm*
*Please be aware that the farm closes at 6 pm Monday to Saturday & 5 pm on Sunday. We suggest that for the last session of the day 5 pm (4 pm Sunday) you arrive no later than 5:15pm (4:15pm Sunday) to allow enough time to pick and pay on exit.
Crops & Weather
Crop availability varies day-to-day depending on past and current weather conditions which affect the growth and timings of the crop, therefore we cannot guarantee specific crops to be available on the day of your booking, however, we carefully estimate crop availability as best as we can.
The farm remains open come rain or shine! Please make sure you bring a bottle of water and sunscreen with you on warmer days, and wellies and a hooded jacket on rainy days. The farm can get very muddy or dusty weather dependant. We do not offer any refunds for bookings due to crop availability and weather conditions.
BOOK YOUR FARM PASSES  
Farm Passes are only available to book online through the ticketing site. Farm Passes are non-refundable; including cancellations, weather changes, crop availability, and or missed time slots. Please factor this in prior to booking.
​CAN'T BOOK OR SEE THE DAY/TIME YOU WANT? We meet with the Farmers every day to find out which, and how many crops are available and ready to pick. We then can release new dates for people to book, usually, this is 7 days in advance and are released anytime after 7.30am each morning, sought-after after WEEKEND dates are usually released on the previous Friday morning. If a date hasn't yet been released passed this it may mean we need to monitor crop availability in a closer time frame, please bear with us. From time to time, we release extra Passes on sold-out days and time slots depending on crops, so please keep checking the site.
​If you are having trouble, here is a Step-by-Step How-to Guide (COMING SOON) on how to book a Farm Pass. Please note: the Farm Pass booking site is not supported by Microsoft Internet Explorer, please copy and paste the link into Google Chrome or an alternative browser https://garsons.digitickets.co.uk/tickets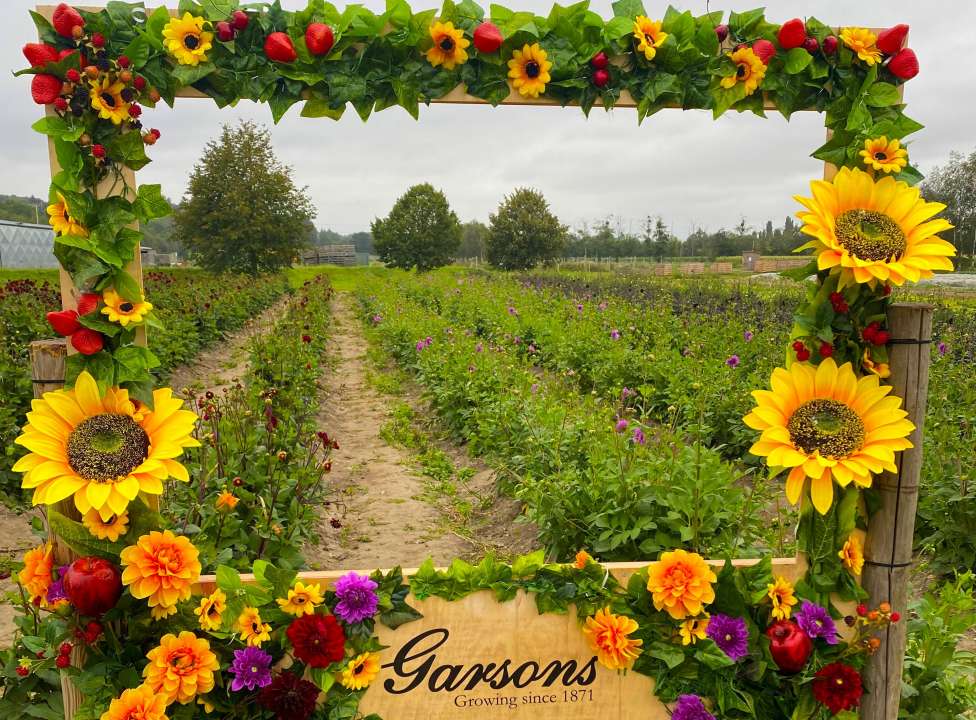 Important Things to Note
ONLY FARM PASS HOLDERS WILL BE ALLOWED ENTRY; each individual must have a valid Farm Pass with a corresponding date and time including infants, carers, childminders and teachers
Please expect there may be a small queue upon entry and exit
We encourage that all visitors drive through the Farm, stopping and parking up at each field as you drive around, for safety
Caution must be taken; Garson Farm is a working farm with tractors, vehicles and wild animals on site, the farmland ground is uneven and contains changing surfaces
There is no limit to your time spent picking on the Farm however, we recommend that you spend no more than a couple of hours during your visit to allow everyone throughout the day to experience a safe and controlled environment
The farm has NO TOILET facilities. You are welcome to use the toilets inside Garsons Garden Centre however, these are not within walking distance of the farm, please factor this in before entering the farm
For health and safety reasons NO pet DOGS are permitted on the farm at any time, except assistance dogs. Dogs must not be left in vehicles under any circumstances
Vehicles are parked at the owner's risk, and all items, belongings and other property brought onto the farm by visitors are at their own risk
Make sure you observe notices in place around the farm which contain important information and instructions. Please make sure you follow our PYO rules and pick safely. Eating picked produce before paying is strictly forbidden and will be treated as theft. All produce must be washed before consumption
Packaging is provided for you free of charge, subject to availability, and is located throughout various points around the Farm. Please note that you will be charged by gross weight
No smoking or vaping is permitted anywhere on the farm
Farm Passes are non-refundable, which includes missed time slots, crop availability and weather
Crop produce availability varies due to seasonal and weather changes; this does not affect your Farm Pass booking terms
Garsons reserves the right to refuse admission, including late arrivals
Find out more on how we farm Garsons PYO Farming Policy
For full PYO Terms & Conditions
FARM EXIT
Produce is charged per item or weighed (gross weight charged) at the exit till kiosks, whereupon your Farm Pass value will be deducted from the total bill, providing the picked crop produce is equal or of a higher value than the Farm Pass booking price.
Please pay at the exit kiosks using a debit card, credit card or mobile contactless. Please note, we do not accept American Express.
Don't forget to bring your Garsons Card with you. Members will receive a discount of 10% off their produce on purchases beyond the value of the Farm Pass. Monday to Friday only. A valid Garsons Card must be shown and scanned at the farm exit till kiosks.
After over a century of farming for the London markets, the Thompson family opened the Farm to the public in 1981. Now, it is one of the biggest PYO farms in the UK.