EVENT: DIB DAB Art Club... at Garsons Esher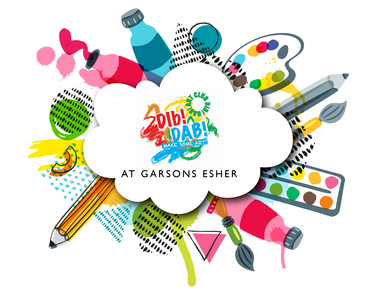 Come and get creative with DIB DAB Art Club at Garsons Esher this summer.
Dib Dab Art Club - Tuesday 16th August - SORRY! THIS EVENT IS SOLD OUT
---
DIB DAB ART CLUB...
BUG HOTEL COLLAGE
TUESDAY 16TH AUGUST 2022
Create a colourful collage of your very own Bug Hotel scene!
Dib Dab will be guiding your child to create a wonderful collage on coloured card taking your inspiration from Garsons very own BUG HOTEL. Learning how to layer through different textured paper and stickers and personalising with pens and pencils your child will unleash their (wildlife) imagination!
Sessions are 40 minutes starting from 9.30 am, with up to 12 children per session
Only £3 per child! This is a discounted rate
SORRY! THIS EVENT IS SOLD OUT
(If you have purchased this event and have received a booking email and e-ticket your place is confirmed and registered)
Tickets are only available to purchase online, and are not available in-store. Please read through the terms below. If you have any questions please email marketing@garsons.co.uk
---
DIB DAB ART CLUB at Garsons Event Terms & Conditions:
£3.00 for 1 x Child Ticket (For children aged 4 and over. Each ticket allows for a parent/guardian)
All tickets are non-refundable. You are welcome to give your ticket/s to family and friends if you are unable to attend by sending them your booking email confirmation, to which the same terms and conditions apply
A maximum of 6 tickets is permitted per booking, per transaction
Children are to be supervised at all times unless otherwise agreed upon in person with DIB DAB staff members
Please arrive at least 5 minutes before the activity starts so your child has time to settle in
Sessions are approx. 40 minutes and will not be extended due to late arrivals, try to ensure your child has been to the toilet before the session starts
Garsons and 'DIB DAB ART CLUB' reserve the right to refuse event admission, including late arrivals
Garsons and 'DIB DAB ART CLUB' reserve the right the cancel the event at any given time, in which case a full refund will be given
Please notify in advance of any allergies prior to the date of the event such as GLUE
Dress children in appropriate clothes for arts and crafts. Garsons and 'DIB DAB ART CLUB' will not accept any liability if clothes get damaged
Date:
Location: Garsons Esher