EVENT: Blossom & Bud... at Garsons Esher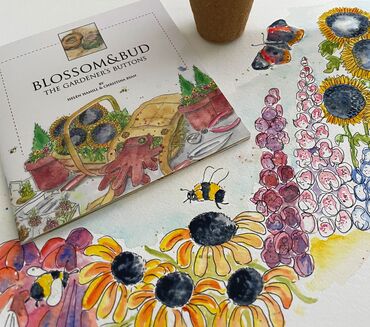 Come and get creative with Blossom & Bud at Garsons Esher this summer.
---
BLOSSOM & BUD...
STORY BOOK & CRAFT
TUESDAY 9TH AUGUST 2022
This session will be presented by the illustrator and co-author of The Buttonhole Press Ltd stories, Helen Hamill. Where she will base the session around Blossom and Bud - The Gardener's Buttons story (a gentle introduction to the KS1 Science Growing topic).
They will discover that Blossom and Bud are no ordinary buttons – but ones who have a story to tell! ​Your child will explore environmental and conservational themes and will produce a fully eco-friendly flower pot to take home at the end of the session as well as a signed copy of a Blossom and Bud book.
Sessions are 30 minutes starting from 9.30 am, with up to 10 children per session
Only £3 per child! This is a discounted rate
(If you have purchased this event and have received a booking email and e-ticket your place is confirmed and registered)
Tickets are only available to purchase online, and are not available in-store. Please read through the terms below. If you have any questions please email marketing@garsons.co.uk
---
BUTTONHOLE PRESS LTD 'BLOSSOM & BUD' at Garsons Event Terms & Conditions:
£3.00 for 1 x Child Ticket (For children aged 4 and over. Each ticket allows for a parent/guardian)
All tickets are non-refundable. You are welcome to give your ticket/s to family and friends if you are unable to attend by sending them your booking email confirmation, to which the same terms and conditions apply
A maximum of 6 tickets is permitted per booking, per transaction
Children are to be supervised at all times unless otherwise agreed upon in person with BUTTONHOLE PRESS LTD staff members
Please arrive at least 5 minutes before the activity starts so your child has time to settle in
Sessions are approx. 30 minutes and will not be extended due to late arrivals, try to ensure your child has been to the toilet before the session starts
Garsons and 'BUTTONHOLE PRESS LTD' reserve the right to refuse event admission, including late arrivals
Garsons and 'BUTTONHOLE PRESS LTD' reserve the right the cancel the event at any given time, in which case a full refund will be given
Please notify in advance of any allergies prior to the date of the event such as GLUE
Dress children in appropriate clothes for arts and crafts. Garsons and 'BUTTONHOLE PRESS LTD' will not accept any liability if clothes get damaged
Date:
Location: Garsons Esher